Universal Testing Machine is also named as the UTM machine. It is the most common instrument that can test the mechanical properties of materials, mainly used for determining the tensile, compression, bending, peeling, tearing, adhesion, and shearing strength of metal and non-metal materials or finished products. We call it the universal testing machine because it can achieve various test targets on different samples by changing fixtures. Our tensile tester machines meet many international testing standards such as GB, ISO, ASTM, BS, DIN, JIS, etc.
What Are the Applications of the Universal Testing Machines from AMADE TECH?
Our Universal testing machines can perform a wide variety of test items on diversified samples. As the applications of universal material testing machines are too extensive, we can't list them all here. Please check the UTM machine's frequently done test items listed below. If you want to know more about the application, please contact us directly. Our sales engineers will answer you in detail.
Tensile Test on Rubber and Plastic Materials

Tear and Tensile Strength Test on Fabric or Leather

Ring Stiffness Test on Pipes

Tensile and Shear Test on Metal or Building Materials

Zipper and Button Pull Test
Puncture Resistance Test on Films

Pull-off Force Test on Toothbrush Bristles

Bending Resistance Test on Glass and Rubber

Pull Test on Wire Terminals and Crimps

Breaking Force Test on Ropes
What Types of Universal Testing Machine does AMADE TECH Have?
In terms of the structure and shape, we have the following types of UTM machines:
Single-column Tensile Tester

Micro Tensile Tester (Benchtop Type)
Double-column UTM Machine

Horizontal Tensile Machine
Four-column Universal Tester

Vertical Universal Tester
Classified from the drive mode, we have types of tensile testers as below:
Manual Push-pull Tester Machine

Servo Motor Driven Tensile Machine
Variable Frequency Motor Driven Universal Testing Machine

Manual Hydraulic Universal Testing Machine
Stepper Motor Driven Tensile Strength Testing Machine

Servo Hydraulic Universal Testing Machine
Classified from the control mode, we have types of tensile machines as follow:
Electronic Universal Testing Machine
Categorized from the test function, we have UTM machines as below:
Shear Strength Testing Machine
Tensile Fatigue Testing Machine

Compression Fatigue Testing Machine

Tension Test Machine with Temperature Chamber
How to Choose a Right Universal Testing Machine?
First, you should tell us what your test samples are and what test items need to be done, such as tensile, compression, shear, tear, etc.
Secondly, you should also tell us your material sample's approximate failure force value. It would be better to tell us the test standard you will follow. Based on your testing requirements, we will then give you one or more models matching a pair of fixtures to choose from.
Here, We will introduce the usage, advantages, and disadvantages of each type of universal testing machine.
The manual push-pull tester machine is divided into vertical and horizontal styles. The manual pull tester is the simplest push-pull testing machine. It consists of a test stand (Level or handwheel operation), force gauge with the data output function for viewing, analysis, and printing, test fixtures for tension or compression. The digital distance meter is optional.
In addition, we also have the motorized push pull tester machine. It is driven by a motor, and the force is transmitted via the ball screw. It is more stable and gives more accurate force than manual ones.
Both types of pull tester machines are commonly used to determine the pull-off force and compression force of small objects, such as crimped terminals, soldered parts, zippers, and buttons of garments or other small items. It also can be used for the peel test of small samples. They have the advantage of being cheap but straightforward in function.
Digital Universal Testing Machine
The digital display tensile machine integrates independent test procedures such as tension, compression, peeling, tearing, etc. It provides users with a variety of test items to choose from. It can be equipped with force sensors of various specifications and multiple test speeds.
Its disadvantage is that it can only display the content in electronic numbers and measure the final result. It cannot display the change of force value in a graph. Moreover, The parameter is input by keys, which is inconvenient for the operator to operate. If you want to buy a simple and general-purpose material testing machine that can realize multi-function testing, the digital universal testing machine will be an option for you.
Electronic Universal Testing Machine
The electronic universal testing machine can display the test results and show the force value changes in the form of the curve during the test. And the test results can be printed directly.
Generally, It is fitted with a colorful LCD allowing you to input various parameters and view the real-time data and trend in the test. The test data can be stored for review and recall at any time. The test operation is more convenient, and the machine is easy-to-use. This type of machine can accommodate most material tests. It is a high cost-effective tensile machine.
This universal testing machine is usually driven by a variable frequency motor or a stepper motor. The test accuracy is within ± 1% of the full range. If more complex calculations for results are required, the computer-controlled universal testing machine is a better choice.
Computerized Universal Testing Machine
This type of universal testing machine is configured with a personal computer.
The sample is mounted in a fixed clamp and a moving clamp. The force sensor located in the moving clamp and the displacement sensor built into the machine collects the force values and displacement changes during the test through the computer acquisition system to grasp the performance of the sample subjected to stretching, tearing, deformation, etc.
The content of the test result can be customized and calculated automatically by the test software, and the real-time data and curve graph can be presented on the computer screen. The test result can be printed directly by connecting a printer, or the test data can be saved permanently on your computer.
The machine is connected to a computer by RS 232 or LAN Ethernet interface.
Manual Hydraulic Universal Testing Machine
The Manual hydraulic universal testing machine adopts an open-loop control system, which features hand operation to adjust the loading during the test. It enables sensor force measurement, real-time display on the digital display screen. And it has automatic storage and print functions. After the test is completed, the test results, such as the maximum force, tensile strength, and yield strength rate of the material, are automatically calculated.
The manual hydraulic UTM has low control accuracy, but It has the advantage of relatively low cost. It is mainly used for testing metallic materials.
The manual hydraulic testing machine is able to conduct tensile, compression, bending, and other mechanical performance tests of metal materials and parts.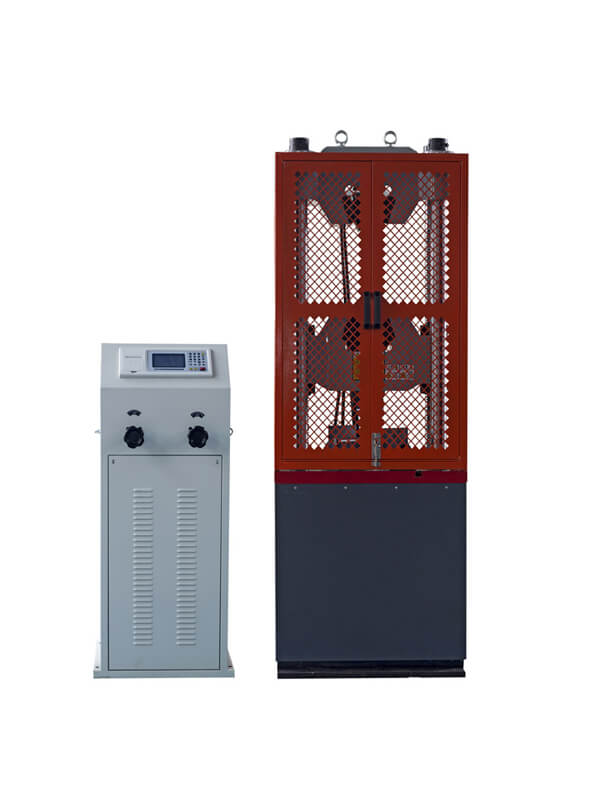 Servo Hydraulic Universal Testing Machine
The Servo hydraulic universal testing machine features computer fully automatic closed-loop control, sensor force measurement, real-time display on the computer screen, storage and printing, and automatic hydraulic clamping of samples. After the test is completed, the test results such as the maximum force, tensile strength, yield strength, elastic modulus, elongation after fracture, and reduction of material area are automatically obtained.
It uses the servo valve or proportional valve as the control element and adopts the high-precision pressure sensor and strain sensor to measure force and displacement.
This universal testing machine is usually used to test metal and building materials. Its test speed is slow, but the control accuracy is high.
It is an ideal testing equipment for industrial and mining enterprises, construction material companies, quality inspection centers, bridge engineering corporates, scientific research institutes, and mechanics laboratories of colleges and universities.
What Test Software Is Configured for AMADE TECH's Computerized Universal Testing Machine?
The test software we configured is the TM2101 control software. It is compatible with computers with the Windows Operating System. This software is characterized by powerful functions and personalized settings to help you complete a variety of tests.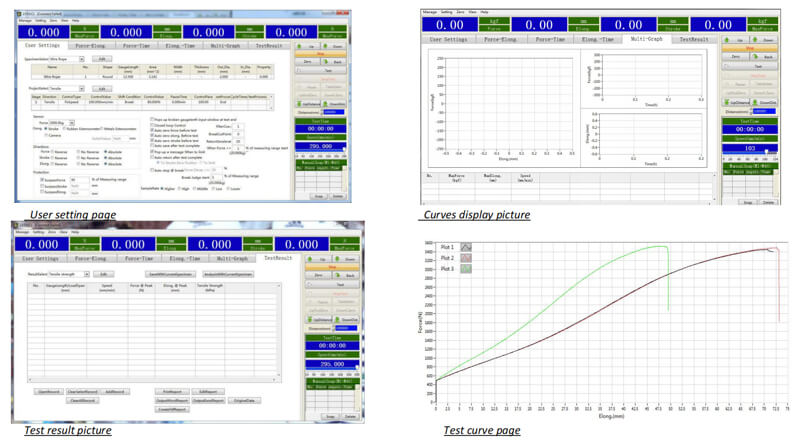 Features of TM2101 Software
The software has high accuracy, fast response, and convenient operation.

The single-board integration technology based on DSP + FPGA can realize the zero-gap acquisition of measurement data and zero-time waiting for system control. The measurement results can truly reproduce the instantaneous change of various characteristics when the material is subjected to an external force.

It has various control modes such as constant velocity, constant displacement, constant force-velocity, constant stress, constant stress velocity, constant strain, constant strain velocity, etc.

It can realize complex multi-step nested loop control and can automatically judge the break and return to zero.

It is suitable for all static tests on various materials, with the PID closed-loop control to allow for the most accurate and repeatable tests.

It is a fully open test software under Windows Operating System. Users can use the existing functions of the software to complete almost all mechanical test items or edit test methods by themselves. The test results are shared with Office software.

The fully open test result editing is available. The maximum force, breaking force, peeling force, tensile strength, shear strength, tear strength, bending strength, maximum deformation, yield force, elongation, elastic modulus, ring stiffness, non-proportional elongation, interval minimum force, interval average force, constant extension force, constant force extension, tensile cycle, compression cycle, etc. are automatically calculated by the computer.
Non-metallic Material Large Deformation Extensometer (Large Deformation Measuring Device for Rubber & Plastic Elongation)
A large deformation extensometer is suitable for measuring the elongation of rubber, plastic, plastic, film, fiber, nanomaterial, polymer material, composite material, etc. It can satisfy the high measurement accuracy and convenience of clamping required by users when doing extensive deformation tests.
Technical advantages:
Unique clamping mechanism.
Lever-type opening mechanism.
Allows users to operate with one hand when clamping efficiently.
Easy to replace the clamping blade.
According to the actual sample's shape, surface hardness, elasticity, the clamping blade can be customized, and the design is convenient to replace the blade. It greatly expands the application range of large deformation measurements.
Easy adjustment of gauge length.
The clamping force is adjustable.
Metal Materials Extensometer
It includes the strain gauge, deformation transfer bar, elastic element, limit distance bar, blade and clamping spring, etc.
When measuring deformation, the extensometer is mounted on the specimen, and the blade contacts the specimen to feel the elongation within the distance between the two blades. Strain is produced by the elastic element through the deformation bar, which is converted into resistance change by strain gauge, and then converted into voltage signal by the appropriate measuring and amplifying circuit.