YOUR BEST CHINA INSTRUMENTS SOLUTION SUPPLIER
AMADE INSTRUMENTS TECHNOLOGY COMPANY

Amade Instruments Technology Co., Ltd is a professional laboratory testing equipment manufacturer and supplier, providing superior instruments at competitive prices.
Amade was established in 2014 and is located in Dong Guan, China, known as the world factory.
Amade Technolgy owns a branch in Hong Kong for better exploiting and expanding the overseas marketplace. So far, Amade testing machines have been exporting to more than 40 countries and regions from Asia, Europe, America, Australia and Africa.
"Making Testing Instruments Affordable to All Customers in the World" is the reason why Amade Technology exists.
There is no doubt that the testing equipment plays an indispensable role in the manufacturing industries from the research & development stage to the production stage. But for many small and medium-sized entities, the high procurement costs are unbearable If they purchase all testing machines from the top international brands.
Competitive Price does Not Mean Low Quality. Relying on China's cheap raw materials  and labor cost advantage, in addition, preferential policies, Amade is constantly optimizing cost control to benefit all customers. Amade has professional R & D engineers, experienced assembly workers and quality inspectors. Each stage from design, material selection, production strictly abides by the corresponding international standards. Amade owns a mature supply chain, and some of the core parts adopt top international brands to ensure the reliability and durability of the whole machine.
Amade sticks to letting customers obtain the best price under the premise of the same quality & enjoying the best quality based on the same price in the marketplace.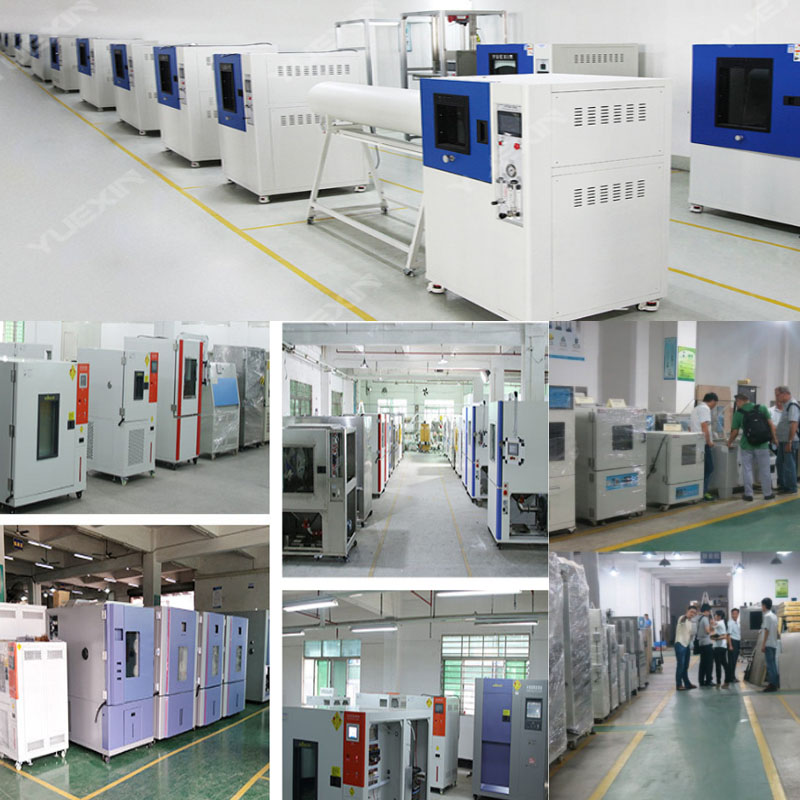 Amade possesses a 4,000 square meter working area, more than 10 R & D engineers, over a hundred well-trained workers and a strongly able-minded after-sales team.
Amade supplies a wide range of standard & non-standard testing machines, including footwear testing machines, leather testing equipment, rubber testing equipment, environmental testing equipment, battery safety testing equipment, textile testing instruments, universal tensile testing machines, paper&packaging testing equipment, furniture testing machines, etc., constituting a rich product line to suit different requirements from customers across the globe.
All testing machines strictly comply with corresponding standards, including ISO, IEC, ASTM, DIN, EN, GB, BS, JIS, ANSI, UL, TAPPI, AATCC, VDE, CSA etc., and products have passed CE, ISO17025, CNAS calibration certificates.
Products have been exporting to dozens of countries. Customers cover manufacturing industries, scientific research institutions and testing agencies. Some international third-party enterprises like SGS, BV, Intertek are Amade's customers.
Amade has a strong executive and effective team to offer considerate and warm services.
At any time, the personalized and pertinent solution at the lowest expense to meet buyers' requirements will be worked out in as short a time as possible once the Amade sales team acquires the inquiry. During the whole communication, Amade salespersons always listen carefully to the voice of every customer.
Amade provides installation, debugging and calibration services before shipment to ensure that the goods delivered are qualified in a good state. Given the relative fragility of precision instruments, Amade offers experienced and professional packaging method via wooden case for each product to ensure that the goods are without any damage or malfunction when received by customers.
Amade gives professional technical support and guidance for machine operation and maintenance throughout the product's service life to eliminate buyers' worries. At least 12 month guarantee period and free technical assistance via text, picture, voice or video are the fundamental commitment. After-sales team is at customers' disposal anytime.
In short, when you choose Amade Instruments, you are choosing to save money, worry and energy.
Amade Technology(HongKong) Co., Limited
AMADE INSTRUMENTS(China) Ltd