Electromagnetic Shaker | Electrodynamic Vibration Test System China Manufacturer
Electrodynamic Vibration Shaker is intended to simulate the vibration conditions such as Sine, Random, Classic Shock, Resonance, etc., under laboratory environment to determine the impact strength and reliability of specimens in the application. Thus, it is an indispensable machine to implement the research & development of new products, maintain a stable quality level during production and evaluate the ability of final products and elements to withstand vibration in the process of transportation and use.
This electrodynamic vibration test system is specially designed to meet the needs of long-term work. It can achieve vertical and horizontal vibration after installing a vibration-resistant base. In addition, the standard platform is equipped with the best air pressure isolation device to minimize the vibration transmitted to the building. In most cases, no additional foundation is required.
Unlike the traditional mechanical vibration shaker, which uses an eccentric cam device and adjustable eccentric weight to fulfill vibration, the working principle of this electromagnetic shaker is similar to the loudspeaker. The electric conductor moves under the interaction of electromagnetic forces in the magnetic field. The force to accelerate the moving part is generated by the balance between driving current and magnetic flux.
The vibration table, power amplifier and vibration measurement and control system constitute a complete vibration test system. It is in accordance with relevant national and international standards such as MIL-STD, DIN, ISO, ASTM, IEC, ISTA, GB, GJB, JIS, BS, etc.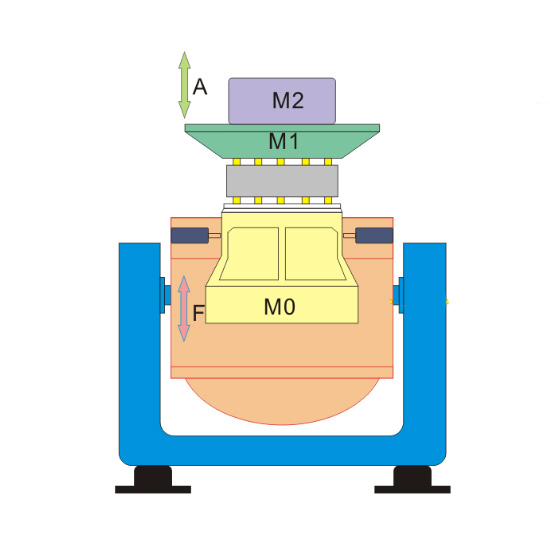 The electrodynamic exciter is extensively used in the fields of power, aerospace, aviation, rocket, nuclear industry, communication, electronics, automobile, etc.
Contents in IEC 62133 and UN38.3 specify simulations of the vibration tests of lithium-ion batteries during transportation. The tests were divided into large batteries (greater than 12kg) and small batteries (less than 12kg cells or small batteries). The vibration frequency was 7~200Hz, and the X, Y and Z axes were sinusoidal sweep frequency according to a specific acceleration.
In order to suit the different operating requirements of various end-users in the market, there are lots of sub-models and configurations to choose from for purchasers. They are different in frequency, max exciting force, max displacement, max velocity, max load, armature weight, armature diameter, etc.  Besides, the Shock Tester is also available here. Welcome to consult Amade.
Main Technical Parameters (for Batteries)
Model
AT-L5006-EV203
Test Type
Sine Sweep, Random
Electromagnetic Excitation Generator
Maximum Sinusoidal Excitation Force
300 Kg.f  peak
Maximum Random Excitation Force
300 Kg.f  r.ms
Maximum Impact Excitation Force
600 Kg.f  peak
Frequency Range
DC1 ~ 4000 Hz
Maximum Displacement
38 mm p-p
Maximum Speed
2 m / s
Maximum Acceleration
100 G (980 m/ s2)
F=M.A
5G (49 m / s2)
10G (98 m / s2)
20G (196 m / s2)
30G (294 m / s2)
57 kg
27 kg
12 kg
7 kg
Maximum Load (dynamic circle)
120 kg
Vibration Isolation Frequency
2.5 Hz
Moving Coil Diameter (work surface diameter)
Ф150 mm
Vertical Expansion

Countertop

400 × 400 mm
Dynamic Mass
3 kg
Countertop Screw
13 × M8
Magnetic Leakage
< 10 gauss
Equipment Size
750 mm × 560 mm × 670 mm (Vertical machine body)
Equipment Weight
About 460 Kg
SA-3K Digital Switching Power Amplifier
Output Power
4 KVA
Output Voltage
100 V
Output Current
30 A
Amplifier Size
720 mm × 545 mm × 1270 mm
Weight
230 KG
Servo Protection System
Function
Temperature, wind pressure, over-displacement, over-voltage, over-current, input under-voltage, external fault, control power, logic fault, input deficiency.
Digital Vibration Controller VCSusb-2
Hardware Configuration
2 channel input, 1 output channel (Sine, Random)
Control Computer
Brand computer (including keyboard / optical mouse)
Software
Chinese/English operation for time domain and frequency domain analysis, signal source, sine sweep analysis, etc. It can automatically generates WORD test report, signal and data display, storage, set test parameters and analysis functions.
Operating System
Windows 10
Accelerometer
Frequency range: 1 ~ 12000 Hz

Sensitivity: 30 pc/g

Temperature range: -40 ~ 160 ° C

Vertical Extension Platform
Material
Aluminium alloy
Dimension
400 mm × 400 mm
Hole Location
13 × M8 Stainless steel screw sleeve, durable wear resistant
Frequency Upper Limit
2000Hz
Vertical Extension Platform Equivalent Mass
15 kg
BL-300 Cooling Blower (with silencer)
Blower Power
1.1 KW
Flow
1404m3 /h
Wind Pressure
1000 Pa
Electrical Requirements
power Supply
3 phase,  380 V / 50Hz, 15 KVA
Ground Resistance
≦ 4 Ω
Un38.3 Sine Sweep's Target Spectrum
Electrodynamic Shaker Features
Unique design & superior materials used allow the vibration shaker to work with excellent performance.

Owns strong loading capacity, prominently linear motion guiding performance and a high degree of stability.

Vibration in the vertical or horizontal direction is available once a shock-resistant base is added.

Supports vertical expansion platform to accommodate specimens with bigger sizes.

Capable of automatically adjusting the position of the moving coils to keep them in balance.

An Air pressure isolation device is installed into the electromagnetic exciter to reduce the oscillation coming into the ambient floor at maximum.

It complies with different international standards like UN38.3, IEC 62133, UL 1642 MIL-STD, DIN, ISO, ASTM, ISTA, GB, JIS, BS etc.

It is equipped with a servo protection system to provide comprehensive convoy, aiming at overvoltage, low voltage, phase shortage, logic fault, overtemperature, output overcurrent, etc.

Custom configurations, including different frequencies, max exciting forces, max displacements, max velocities, max loads, etc., are available to suit personal requirements based on practical use.

Easy for testers to operate and control due to decent controller.
Send an Inquiry
Please feel free to contact us for more details on the product, price, lead time, payment terms, shipment methods, etc. Amadetech sales specialists will respond within one working day.