Lithium-ion Battery Electrical Abuse Test Equipment China Manufacturer and Supplier
Lithium-ion Battery External Short Circuit Tester is used to simulate the unintentional and incorrect electrical connection of the cell/battery terminals by connecting both the positive and negative terminals to an external resistor.
After an external short circuit occurs, whether the specimen will cause safety events, such as venting, rupture, thermal runaway, fire, or even explosion, is observed result determination.
The external short circuit tester is one of critical lithium-ion battery testing apparatuses. AMADE TECH can provide you with different sizes and styles of external short circuit testers according to different specifications of the sample.
In addition, If you are interested in the lithium-ion cell forced internal short circuit tester, please click HERE to learn more.
External short Circuit testing of cells or batteries is one of the basic tests used to assess the electrical performance of overcurrent protection devices or the safety of lithium-ion or other secondary cells/batteries. This test item applies to a variety of different cell and battery types, such as 18650 cells, prismatic cells, battery packs, etc.
Introduction of Lithium-ion Battery Short Circuit Testing Equipment
AMADE TECH temperature-controlled battery short circuit testers are designed in accordance with the requirements of various test standards.
The contactors are used as switching elements, and thermal relays are used as protection devices.
The short-circuit devices meet the external resistance values, usually including: (80±20) mOhm, ≤ 100 mOhm, (20±10) mOhm, (30±10) mOhm, or ≤ 5 mOhm, to obtain the maximum short-circuit current required by the test. You are allowed to specify any resistor value you want to suit your testing.
In addition, the circuit design of the short-circuiting device also ensures that it can withstand the impact of large currents.
This battery external short-circuit tester adopts a vertical box structure, and the test area is located in the upper area of the equipment to facilitate the operation of users.
The test chamber has a built-in temperature measuring device, heating device, air convection system, pressure relief port, short-circuit clamps for the cells, external resistance cables, battery surface temperature measuring apparatus, etc.
Various control functions are integrated into PLC and a high-definition touch screen of the external short-circuit testing machine.
You can easily set various parameters and test conditions on the touch screen, such as short-circuit duration, drop ratio of temperature rise, over-temperature protection value, etc. Battery case temperature, peak temperature, battery voltage, current, and other parameters can be displayed on the screen in real-time. It allows you to complete the test in either manual or automatic mode.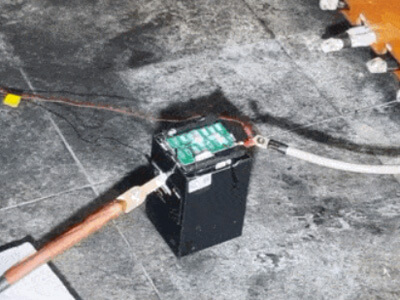 Test Principle of the Lithium-ion Battery External Short Circuit Tester from AMADE TECH
The positive and negative terminals of the sample cells/batteries inside the chamber are attached to the specified wire ends. When the circuit breaker is closed, the circuit of the cell/battery under test is short-circuited, and a strong short circuit current flows through the entire circuit. At this time, the entire circuit (including circuit breakers, wires, and connecting devices) meets the specified resistance value. The acquisition element detects the battery surface temperature and voltage and feeds back to the PLC main control unit to achieve the purpose of intelligent control.
Model
AT-L5002
Working Voltage
AC 220 V or 110 V, 50 Hz / 60 Hz
Impact Voltage
AC 1 kV / 1.2 – 50 μs 1 min
Maximum Measurable Battery Voltage
100 V
HVDC Response Time
≤ 5 μs
Max. Circuit Current
1000 A
External Resistance
(80±20) mOhm(Standard configuration, other specifications are optional)
Remote Control Distance
7 meters
Test Temperature Control Range
RT + 10 ~ 100℃
Current, Voltage, Temperature acquisition channels
Total 3 channels (Standard configuration. The acquisition channel can be expanded)

Current – 1 channel

Voltage – 1 channel

Temperature – 1 channel

Conditions for the End of the Test

Short circuit duration
Percentage of battery case temperature dropped to peak temperature

Short Circuit Modes
Room temperature short circuit (20 ± 5℃)

High temperature short circuit

Actuation Time
Response time / releasing time ≤ 30 ms
Mechanical Life
300,000 times
Temperature Control Accuracy
0.1℃
Temperature Uniformity
± 2℃
Temperature Fluctuation
± 0.5℃
Interior Test Chamber Size
500 mm × 500 mm × 500 mm (Other sizes can be customized)
Optional or Custom Accessories

Holders for cylindrical cells, coin cells
External resistance connecting cables
Fire extinguishing system

Working Environment
Temperature: 5℃ ~ 35℃, humidity: 20 ~ 85% R.H
Supply Power
AC 220 V, 50 Hz, 15 A or AC 110 V, 60 Hz
UN 38.3
IEC 62133
IEC 62660-2/3
IEC 62619
EN 50604-1
ISO 12405
ECE R100
SAE J2464
J2929
UL 2580, etc.
Lithium-ion Battery External Short Circuit Tester Features
The outer box is made of cold-rolled steel plates, and the surface is treated with baking paint, which is rust-proof and beautiful.

The inner box is made of stainless steel and is reinforced with reinforcing ribs. If the battery tested in the box explodes, the inner box will not be deformed.

The equipment is equipped with a visible explosion-proof glass window coupled with lighting to facilitate the observation of the sample under test.

The interior chamber is equipped with a smoke exhaust port and an explosion-proof pressure relief port.

Configured with a high-definition touch screen for you to set parameters and monitor the entire test process.

The battery's external short circuit test process is controlled by PLC.

Supports acquisition of voltage, current, and case temperature during the test.

Two types of test end condition settings are available.

Supports wireless remote control for testing.

Explosion-proof chains are fitted between the door and the box frame to further protect people in case of explosion.

Different holders for various battery types are available.

Test data can be automatically recorded and stored, and test data can be generated and exported.

Casters are installed at the bottom of the equipment to move and fix conveniently.

Equipped with various protection mechanisms, including grounding protection, over-current protection, leakage protection, short-circuit protection, over-temperature protection, etc.
FAQ on Battery Short Circuit Testing
The table below is a comparison of the external short circuit test conditions specified by various standards (This is only a partial list of standards. For more, please let us know your test standards.)
| | | | | | | | |
| --- | --- | --- | --- | --- | --- | --- | --- |
| Standards or regulations | UN38.3 | IEC62133 | UL1642 | IEC 62660-2/3 | IEC 62619 | EN 50604-1 | ISO 12405-1/2/3 |
| DUT | Cell, module, Pack | Cell, module | Cell | Cell, module,pack | Cell, module | Pack | Pack |
| External resistance (mΩ) | ≤ 100mOhm | (80±20)mOhm | (80±20)mOhm | ≤ 5mOhm | (30±10)mOhm | (20±10)mOhm | (20±10)mOhm |
| Test Temperature | (57±4)℃ | (55±43℃, RT | R.T. | R.T. | (25±5)℃ | R.T. | R.T. |
The external short circuit test of lithium-ion batteries is an important means to test the safety of lithium-ion batteries in the case of abuse and optimize the battery structure design.
The external short-circuit test connects the lithium-ion battery to a fixed-value resistor. The external resistance is close to or even smaller than the internal resistance during the test. At this time, most of the voltage will be added to the internal resistance, and the output voltage of the external circuit will decrease. Suppose the voltage on the internal resistance of the battery is too large. In that case, the heating power will be very high, and a large amount of heat is generated inside the lithium-ion battery in a short time, which will burn the battery. Due to the limitation of the structure of the lithium-ion battery, the heat cannot be quickly diffused to the outside of the battery, resulting in an excessively high temperature of the lithium-ion battery, which may cause the decomposition and combustion of the active material and the electrolyte, resulting in thermal runaway.
If the lithium-ion battery can pass the external short-circuit test, it proves that the lithium-ion battery is very safe under this kind of abuse.
Send an Inquiry
Please feel free to contact us for more details on the product, price, lead time, payment terms, shipment methods, etc. AMADE TECH sales engineers will respond within one working day.